Buy Quality OEM Ford Parts at Our Parts Center near Hobart, IN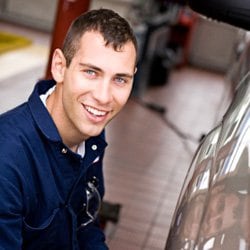 As the years and miles go by, it's essential that you ensure your Ford is always working properly. Once in a while, you might need to replace a part or two. When that time comes, you can trust the team at our Ford parts center near Merrillville, IN, to help you pick out the right components for your car. Our team is comprised of trained Ford parts specialists who can quickly identify the issue you're having and which component will be best suited to fix your car up. This way, if you're more of the do-it-yourself type, you can get exactly what you need easily. If you need more guidance along the way, we're happy to advise you.
When you purchase OEM Ford parts from Currie Ford of Valpo, you can be sure you're getting high quality components that are made specifically for your car. We believe in working with the best of the best, and that means genuine Ford parts. We know your vehicle better than anyone, so you can trust that we'll lead you in the right direction. Use our form online to request the parts you need today!